GOSI
Welcome to the Graz OPEN SCIENCE Initiative!
We are researchers and students from all over Graz (Austria) and interested in Open Science and Open Access. Those two topics are relevant and will shape science and research in the 21st century.
Open Science broadly addresses the topic of transparency in the scientific process. Many steps during the research process occur in a black box to outsiders, which bears the risk that reported findings are potentially exaggerated or even false. Open Science strives to minimize those risks by promoting more transparency during the research process using online tools (e.g., by uploading data and materials on science clouds).
Open Access aims for free accessibility of research. Currently, most publications are behind expensive paywalls and universities have to pay thousands of Euro to access these articles. However, if research becomes freely accessible, more people can benefit from these findings.
Open Science Form for Dissertations
If you are a PhD student, who works with empirical data (the subject does not matter) and you want to make your research output more transparent in your dissertation, you can add the "Transparency and Open Science Statement" form to your dissertation (we suggest putting it before the Table of Contents). In this statement, you can transparently report crucial Open Science practices (i.e., open data and code, open materials, and preregistration, for details on these practices see this page) and whether your research is openly accessible. Our member Hilmar Brohmer provides an example form for his own dissertation.
Follow GOSI!
If you want to join our email list for upcoming events and workshops, please send an email to graz_open_science [at] zoho.com using the subject "GOSI list"
Find us on Twitter (https://twitter.com/GrazOpenScience) and Facebook (https://www.facebook.com/GrazOpenScienceInitiative)
GOSI Core Team
Hilmar Brohmer (University of Graz), Sandra Grinschgl (University of Graz), Gabriela Hofer (University of Graz), Živa Korda (University of Graz), Georg Krammer (University College of Teacher Education Styria), Tony Ross (Graz University of Technology), Sarah Stryeck (Graz University of Technology).
Former members
Piyush Gajananrao Gampawar, Christian Kaier, Hannah Metzler, Stefan Reichmann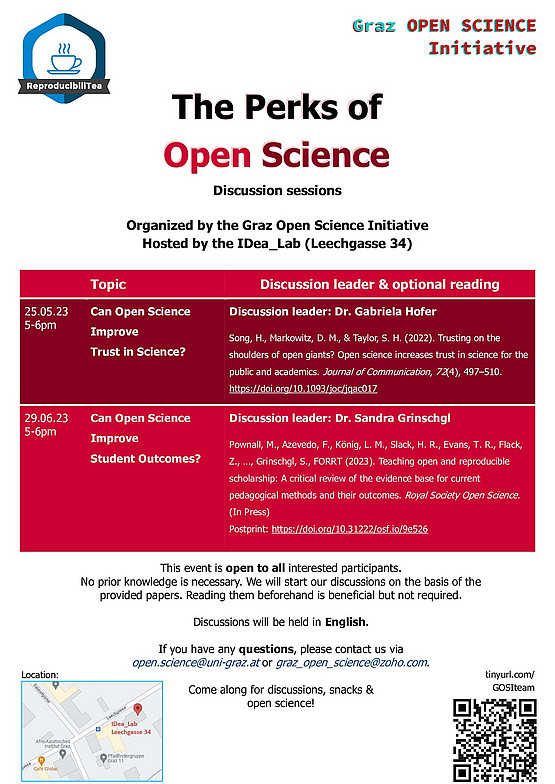 Past events
| | |
| --- | --- |
| Nov 27, 2022 | ReproducibiliTea |
| Jun 30, 2022 | Open Science Day |
| May 15, 2022 | ReproducibiliTea |
| Oct 01, 2021 | ReproducibiliTea |
| Mar 01, 2021 | ReproducibiliTea |
| Nov 13, 2020 | Open Science Day |
| Jan 30, 2020 | Double Feature (movie night and Open Beer Review) |
| Dec 05, 2019 | From Reproducibility to Something Stronger, Christmas Party, 2019 |
| Oct 10, 2019 | ReproducibiliTea |
| Jun 27, 2019 | Open Beer Review |
| May 17, 2019 | Meanings of Reproducibility Workshop |
| Mar 21, 2019 | ReproducibiliTea |
| Nov 19, 2018 | Movie night: Behind the Paywall |